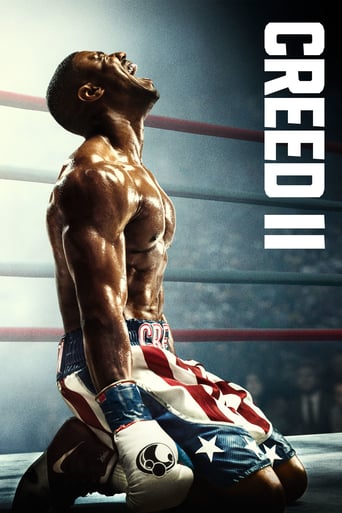 Watch Now
Subscription

Watch on HULU

Watch on Fubo TV

Watch on Epix
Rent / Buy
Buy from £14.99
Rent from £3.99
Creed II (2018)
November. 21,2018
|
7.1
|
PG-13
|
Drama

Watch Now
Subscription

Watch on HULU

Watch on Fubo TV

Watch on Epix
Rent / Buy
Buy from £14.99
Rent from £3.99
Between personal obligations and training for his next big fight against an opponent with ties to his family's past, Adonis Creed is up against the challenge of his life.
...
Watch Trailer
Cast
Similar titles
Reviews
It's not great by any means, but it's a pretty good movie that didn't leave me filled with regret for investing time in it.
More
In truth, there is barely enough story here to make a film.
More
The story, direction, characters, and writing/dialogue is akin to taking a tranquilizer shot to the neck, but everything else was so well done.
More
The movie turns out to be a little better than the average. Starting from a romantic formula often seen in the cinema, it ends in the most predictable (and somewhat bland) way.
More