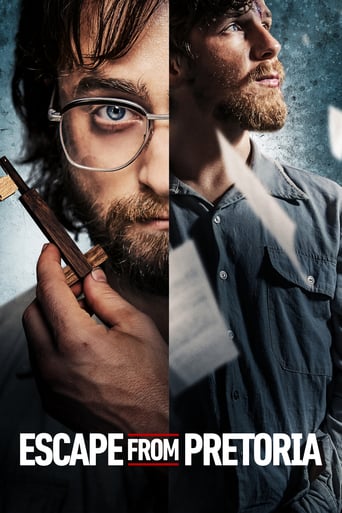 Watch Now
Subscription

Watch on HULU

Watch on Starz

Watch on Starz on Hulu
Rent / Buy
Buy from $14.99
Rent from $3.99
Escape from Pretoria (2020)

Watch Now
Subscription

Watch on HULU

Watch on Starz

Watch on Starz on Hulu
Rent / Buy
Buy from $14.99
Rent from $3.99
South Africa, 1978. Tim Jenkin and Stephen Lee, two white political activists from the African National Congress imprisoned by the apartheid regime, put a plan in motion to escape from the infamous Pretoria Prison.
...
Watch Trailer
Cast
Similar titles
Reviews
Don't listen to the negative reviews
More
It's entirely possible that sending the audience out feeling lousy was intentional
More
Like the great film, it's made with a great deal of visible affection both in front of and behind the camera.
More
It is an exhilarating, distressing, funny and profound film, with one of the more memorable film scores in years,
More