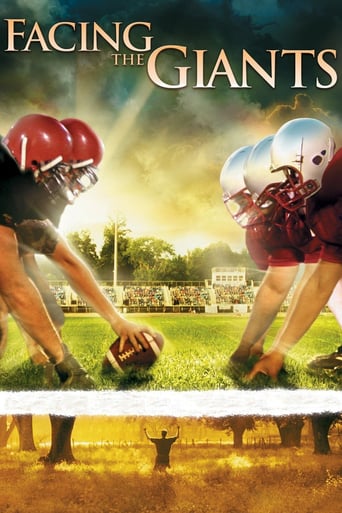 Facing the Giants (2006)
September. 29,2006
|
6.6
|
PG
|
Drama
A losing coach with an underdog football team faces their giants of fear and failure on and off the field to surprising results.
...
Watch Trailer
Cast
Similar titles
Reviews
Lack of good storyline.
More
Don't listen to the negative reviews
More
This movie tries so hard to be funny, yet it falls flat every time. Just another example of recycled ideas repackaged with women in an attempt to appeal to a certain audience.
More
There are moments that feel comical, some horrific, and some downright inspiring but the tonal shifts hardly matter as the end results come to a film that's perfect for this time.
More
"Facing Giants" is a movie dedicated to a specific audience. An appropriate audience would be Christians or doubting Christians. It would be more suitable for those doubting Christians because a recurring theme that can be seen in the movie is to not lose faith in God no matter what. The main themes observed in the film would be: faith in God, benevolence, patience, and dedication. The story begins introducing Shiloh Christian school. Then, football Coach Grant Taylor (Alex Kendrick) is introduced along with his colleagues. Coach Grant is stressed because his best player left the school, his team is not the best, and the season is about to begin. After Grant's wife is introduced (interpreted by Shannen Fields), both of them are sad because she cannot get pregnant. Up to this point it seems that everything is going terribly wrong for Grant Taylor. Next, the season begins, and it is chaotic. The Shiloh Eagles lost their first three games. Some parents gather together with one of Grant's colleague Brady Owens (Tracy Goode) to talk about his failure and possible dismission. Later on, Coach Taylor learns he is the reason why his wife cannot get pregnant. This is the point in the story when he feels the worst. The school principal talks to him because he can see he is going through a tough situation. After this point, he begins to pray a lot and things begin to change. First, they start winning. Second, students in the school begin confessing and taking faith more seriously. Third, he is given a new truck (because his was not working anymore). Last but not least, his wife learns she is pregnant. However, the Shiloh Eagles lost. Coach Taylor thought everything was coming down after all of his faith and dedication. Then, a miracle happened. The team that had beaten them had gotten disqualified and the Shiloh Eagles moved on to the next round to face the unbeaten Bears. The game was tight, the Eagles needed a miracle to happen. It indeed happened (spoiler alert avoided). At the end of the movie all of the themes could be observed.The actors who interpreted the main characters did an awesome job at it. Next you will find their acting descriptions: Grant Taylor (Alex Kendrick): Alex Kendrick did an amazing job interpreting Coach Taylor. He expressed the correct emotions in every situation his character went through. He correctly expressed sadness and stress when he realized the best player of the school left or when he was told that he could not have a baby. Brooke Taylor (Shannen Fields): Her acting, once again was pleasant. There was not a mistake seen in the film when it came to it. She is a very talented actress. Brady Owens (Tracy Goode): Even though Tracy did not really appear much in the film he sure did a good interpretation of his character. Once again his emotions were suitable for the situations. His acting seemed to fit with the situation.The quality of the images and the film itself was organized, comprehensive, and unique. The flashbacks clearly made the story a lot more interesting and you didn't get lost in the plot. When it came to film the football games it was once again very good. The shots provided clearly showed what was going on. There were very iconic shots as well. For example, when the final winning kick was made. These details show that the movie was directed properly. The music on the background was proper for each of the situations the characters went through. The music was also good because it suited the events that were taking place. For example, the music during the games was dynamic and very exciting. When the characters were facing a difficult situation the music was sad and depressing. However, when the characters became elated the music became very positive and "inspiring". To conclude, I can totally relate to the movie and many people will do to. When I am under extreme pressure and feel that things are not going as I wished they would I begin blaming God for that. Then he helps me, just like he did the many people in the movie. The message, acting, photography, soundtrack and direction were very good. I would not change a thing in the film.
More
guys to be honest before watching this movie i was loser i just thought i was useless but one day just for a waste time pass i saw this movie and believe me guys that was just apically epic after that i won the biggest battle in my life which was ahead of me and then i won again this movie just changed my life i strongly recommend to you all and specially to those who think there is nothing they can do they are just inferior and loser...thought that too but after watching this i am just gonna show everyone how great i am.Don't just ever someone say you that you are inferior or second rate..that because you are not just face your fears and you gonna be the best.you all are born to be great and then just some of them become heroes..
More
One of those movies that would have been better if it wasn't as if it were done by a churchgoing skinhead. Almost every minority is in some kind of submissive role whether that's getting brutally tackled, being defeated by a white quarterback(or on the opposing team), being shown in background or in practice drills(none good enough to start), being a nearly all-white cast(1 affirmative action black actor), etc. It seemed blatant! Christianity is about converting whites, blacks, Middle Eastern, Eastern, European, Hispanic, Indians, etc. to Christianity. It's one thing to exclude them, but to go that extra mile to make them submissive is yet another. Also, it's about not doing things that are unnecessarily offensive to weaker individuals(not converts or not on your level yet). I think Paul of the bible said that. Blacks that aren't Uncle Toms or Aunt Theresas will likely be offended by this movie! Isn't a Christian trying to win their soul, too?Movie had a great message, though. God can help you through anything, if you trust him. Nothing's impossible for God! Georgia High school football coach Grant Taylor and his wife suffer greatly early on through losing football, financial difficulty, being fired, and infertility, but face it together as Christians. With urging of a Christian, he becomes more proactive with his Christian faith. His approach starts a movement within the players and the school. As Grant becomes more Christianly proactive, he gets blessing after blessing from God. It seems like everything either gets a good bit better or becomes outstandingly better. So good are these things that he is tearfully happy with almost every one! It seems when he has gotten giddy with one here comes another! Side stories: Coach light-heartedness/drama with coaches, Football player and his rich dad, a Backup kicker and his dad, Losing, the winning and playoffs, infertility, prayer, Christian talk. I don't want to spoil the movie, but it has a good bit of twists and drama.
More
After watching Facing the Giants for the first time this weekend, I was blown away. This movie had me on the edge of my seat and with tears in my eyes for some scenes. This movie fulfilled all of my expectations. The characters were very well thought out as well as the setting. The conflict in this movie is very easy to relate to in the real world. The plot grew as the movie went on, on leading me closer to screen to see what happens next. I also enjoyed watching a movie that was very faith-based. There were many moments of Christian fellowship that is not seen often in today's society. It is very kid friendly as well as very enjoyable to adults! This is by far a movie I would recommend to everyone, especially athletes!
More