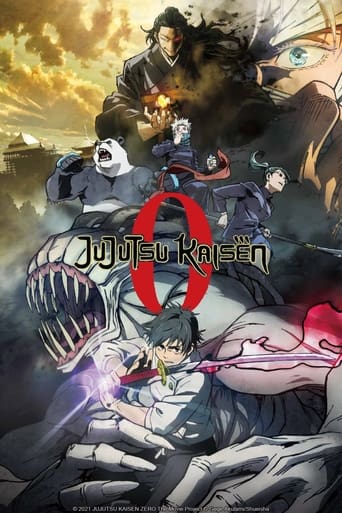 Jujutsu Kaisen 0 (2021)
Yuta Okkotsu is a nervous high school student who is suffering from a serious problem—his childhood friend Rika has turned into a curse and won't leave him alone. Since Rika is no ordinary curse, his plight is noticed by Satoru Gojo, a teacher at Jujutsu High, a school where fledgling exorcists learn how to combat curses. Gojo convinces Yuta to enroll, but can he learn enough in time to confront the curse that haunts him?
...
Watch Trailer
Cast
Similar titles
Reviews
Highly Overrated But Still Good
More
Excellent adaptation.
More
At first rather annoying in its heavy emphasis on reenactments, this movie ultimately proves fascinating, simply because the complicated, highly dramatic tale it tells still almost defies belief.
More
There's no way I can possibly love it entirely but I just think its ridiculously bad, but enjoyable at the same time.
More