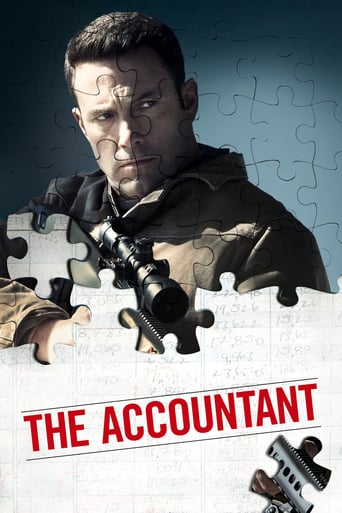 The Accountant (2016)
As a math savant uncooks the books for a new client, the Treasury Department closes in on his activities and the body count starts to rise.
...
Watch Trailer
Cast
Similar titles
Reviews
good back-story, and good acting
More
Brilliant and touching
More
Best movie of this year hands down!
More
I completely wrote this film off when it came out in theaters 2 years ago, maybe it was the title, not exactly the most enticing of occupations, I don't even remember watching a trailer, and I never heard anyone talk about it or hearing much fanfare, so just assumed it was something Affleck was contractually obliged to do by WB while bulking up for Batman and churn something out in the interim. So I ignored it.Cut to today where I'm kind of on some serious downtime coupled with a 4K iTunes binge slash addiction, and catching up on those films I missed out on. I read the reviews and they were extremely positive, I'm a fan of Affleck in general, he's simply a likeable lead even when he's miscast or not quite hitting it, he's just watchable. I used to dislike Anna Kendrick, but became a total convert after Pitch Perfect. And who doesn't love JK Simmons? Seemed like giving the film a shot was a no brainer.The film has some rough edges, and at times it balances that line of feeling smarter than it really is, and I'm sure there are some plot holes that may appear on a repeated view, but I wouldn't know or care right now because I was completely caught up in the film and enjoyed it immensely. It may not have the immediacy of 'Taken', but in terms of being that smart action thriller you don't expect, I would liken it to that. The 3rd act and climax is really great, the film, the subplots and the lead character in general completely begin to gel in a very satisfactory way. I really enjoyed the film. I'd compare it to 'John Wick', less over the top, but it has a similar tone and feel in regards to a stoic lead, excellent action choreography, a considered sense of humor and likeable characters. if you liked those films you will definitely get a kick out of 'The Accountant'. A solid script, solid performances, solid everything. A truly solid 8/10.
More
I've been waiting all year to watch a movie like this. It's a must watch film with incredible acting and effect. Really good thriller.
More
Just saw it the second time and all I can say is that this movie off the charts. It has a lot of fighting with incredible skills, love and sheer chemistry between the leading character and Anna Kendrick, but also shows what true family means, the loyalty between Ben and his brother is overwhelming. All actors play extremely good and I tried to see one more time some other movies like Jack Reacher (2012) but it bored me to death. On the other hand, watching again this movie really made me see some details that I missed the first time and I got the same feelings I got initially. Highly recommended!
More
Every second is planned and logical. It's just like real life drama, yes one might need to hold on a bit until it becomes intense. But once it is done, you will complete the movie.
More