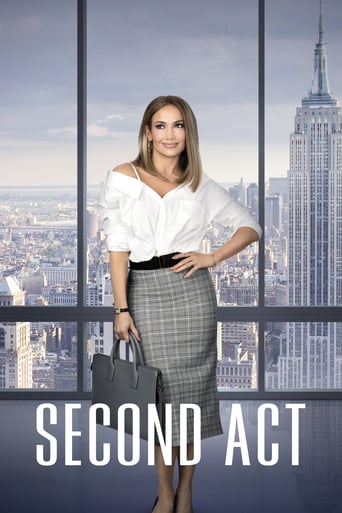 Watch Now
Subscription

Watch on Fubo TV

Watch on Showtime on Hulu
Rent / Buy
Buy from $10.99
Rent from $2.99
Second Act (2018)

Watch Now
Subscription

Watch on Fubo TV

Watch on Showtime on Hulu
Rent / Buy
Buy from $10.99
Rent from $2.99
Maya, a 40-year-old woman struggling with frustrations from unfulfilled dreams. Until that is, she gets the chance to prove to Madison Avenue that street smarts are as valuable as book smarts, and that it is never too late for a second act.
...
Watch Trailer
Cast
Similar titles
Reviews
Second Act never becomes unwatchable or even all that annoying, it's a shame that the creative powers that be didn't have enough faith in their admittedly slight, but strongly realized premise.
More
This movie is magnificent!
More
Ok... Let's be honest. It cannot be the best movie but is quite enjoyable. The movie has the potential to develop a great plot for future movies
More
All of these films share one commonality, that being a kind of emotional center that humanizes a cast of monsters.
More
This is one of the best movies I've seen in a very long time. You have to go and see this on the big screen.
More