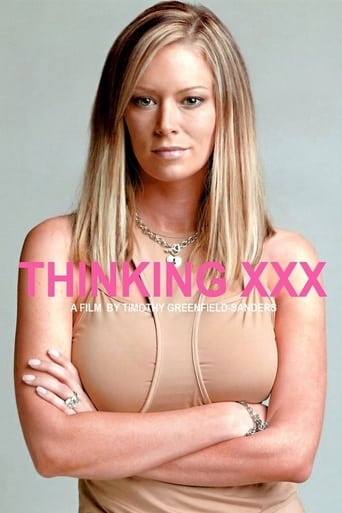 Thinking XXX (2004)
For a book project, photographer Timothy Greenfield-Sanders took photographs of 30 stars of adult movies, each pair of photographs in the same pose, clothed and nude. This film records the photo shoots and includes interviews with the performers and commentary from eight writers (and John Waters). The actors and writers discuss economics, nudity and exhibitionism, careers, and private lives.
...
Watch Trailer
Cast
Similar titles
Reviews
I love this movie so much
More
I'll tell you why so serious
More
This is a coming of age storyline that you've seen in one form or another for decades. It takes a truly unique voice to make yet another one worth watching.
More
Timothy Greenfield-Sanders decides to do a photography book starring Porn Stars. First they wear clothes, then they don't. It's hardly earth shattering stuff, but this documentary does unravel some fairly interesting facets of humanity. Just not enough to wish there had been more. The most interesting clips come from porn star couples, as they discuss their very different sex lives. Other stars seem to be in control of their lives, whilst others seem to be in denial. There are also some interesting insights into the business side of porn. As it all comes back to the photography, it's never enough. We get brief snapshots where porn stars take off their layers for a few seconds but then it's over. A good watch, but one which invites more detail.
More
bought the book first titled thinking xxx thirty porn portraits that features the industry's top performers and stars clothed and un-clothed by photographer and author timothy greenfield sanders. i bought the DVD a while later and thought it would interesting to see the book being borough to film. viewers looking for x-rated clips of their favorite adult stars will be disappointed as there is none but more a journey of sorts as the performers sit down for a frank and thought provoking interview where they discuss their trade. they talk about growing up and their childhood, how they got started in the business and how it as affected their personal and professional lives. i was more fascinated with the veteran performers from the 70s and 80s who had so many wild tales to tell. back than, sex on camera seemed more enjoyable, worry free and fun where there wasn't the scare of sexually transmitted diseases or the aids epidemic that hit the eighties and devastated the industry. recommended to those wanted to take a further peek behind the curtains of the adult entertainment industry.
More
Having photographed artists, actors, musicians and politicians, Timothy Greenfield-Sanders' next project is to photograph stars of the American pornography industry both with clothes and without in the same pose. As he works with them to capture his images, they speak to the camera about their lives, their experiences and how they see the world they live within.As with many people I imagine, this film jumped out of the listings at me because of the title but also the names of the people involved – many of whom I have of course seen, but few of them on UK television! I watched it out of curiosity and, in this regard it works as a short documentary. The actors and actresses are all pretty charming and open about the work they do – none of them are cheap and nasty nor are any of them too hung up on the "importance" of what they think they are doing (even if one talks a bit heavily about it as an "art"). Seeing them in their normal clothes and not heavy make-up and high-heels is a nice experience and this novelty value is enough to carry it.Of course there is also nudity but it is all very posed and those looking for a cheap way to get off will be disappointed because Sanders' is not really interested in making them titillating. This plays in its favour as a documentary but it is a documentary about the shooting of these portraits and not about the porn industry and this is where many viewers will have an issue with it. As it is essentially a relaxed chat with the performers, there isn't any probing and no topics are covered lest they want to discuss it themselves. So what we get is a very cheerful depiction of the industry from those who have been made comparatively rich and successful as a result of what they do. What you won't get is any idea of pressures, downsides, tragedies and so on, because these are not discussed or even really mentioned.A shame perhaps but also understandable since the film is not really about more than the celebrities being shown "out of character" as it were. In the end what this means is that the film is a sort of cheerful bit of access to porn stars for those with an intellectual interest in them beyond the nudity and sex. In this regard it doesn't totally work because it is all a bit superficial with no probing whatsoever, giving the performers an easy ride and the industry a chance for a bit of PR but it is still quite interesting if you can except it as such.
More
It is amazing to watch this show and see all of these very popular porn stars being interviewed and photographed out-of-character, as actors rather than characters in a porn video. Any Tera Patrick fan will be amazed to see how wholesome looking she is when she is not in porn makeup and a porn wig. After seeing this you will believe it when you hear that she was a pre-med college student before she started in the biz (it's true).After seeing the show I bought the book that it is about, "XXX 30 Porn-Star Portraits", and it is as amazing as you'd think. The Timothy Greenfield-Sanders is a great photographer, and these are all great photographs. Also fun area all the essays throughout and the auto-biographical entries in the back.Porn stars may be odd people, but they are real people, as you will find when if you watch this show and read (and look at) the book.
More