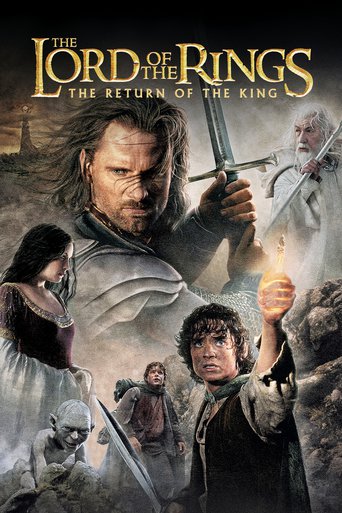 Watch Now
Subscription

Watch on HBO max

Watch on HULU

Watch on HBOmax
Rent / Buy
Buy from $14.99
Rent from $3.99
The Lord of the Rings: The Return of the King (2003)

Watch Now
Subscription

Watch on HBO max

Watch on HULU

Watch on HBOmax
Rent / Buy
Buy from $14.99
Rent from $3.99
Aragorn is revealed as the heir to the ancient kings as he, Gandalf and the other members of the broken fellowship struggle to save Gondor from Sauron's forces. Meanwhile, Frodo and Sam take the ring closer to the heart of Mordor, the dark lord's realm.
...
Watch Trailer
Cast
Similar titles
Reviews
Nice effects though.
More
In truth, there is barely enough story here to make a film.
More
The movie's neither hopeful in contrived ways, nor hopeless in different contrived ways. Somehow it manages to be wonderful
More
The film's masterful storytelling did its job. The message was clear. No need to overdo.
More
First of all: I liked this movie, and i could watch it an awful lot of times. But that is mostly due to the great special effects .
More
Must watch!!! Thrilling and exiting from start to end.
More
I love the way they show the storyline of this film.with amazing vfx and the combination of amazing cast and beautiful storyline.really love every part of the story.
More
Masterpiece doesn't even begin to describe this LOTR movie. Gorgeous costumes, lighting, actors. Such a high quality movie that it could stand on it's own even without the soundtrack (a good rating test in my book)! Without writing a spoiler, the story builds up in such a way that the characters line up perfectly with Tolkien's legend. Can stand on it's own as a single movie or as part of the trilogy. One of the best classics.
More